Back to Beautiful: These Mosaic Medallions Recovered their Charm with Our Stone Cleaning Service in Pottstown, PA
August 21, 2017
The charm of medallions
A medallion on a floor is a circular or oval design that creates a symmetrical pattern. It can be made from various materials, such as tile, stone, or glass. This decorative accent brings elegance to any home, but it needs to be taken care of to remain in good condition. These clients chose to install two stone medallions some years ago. This was a wise choice because stone is a very durable material that can remain in optimal condition for a long time. However, as expected, time takes its toll and the originally perfect medallions had lost their charm due to the owner's frequent use of the terrace. The good news is that stone can be serviced to regain its beauty. To restore the old appeal of these pieces, the owners started looking for a
Pottstown Stone Cleaning
. While searching the internet, they found us, and after learning about our experience with hard surface restoration, they resolved to call us. They scheduled a free in-home consultation to assess the extent of the work to be done.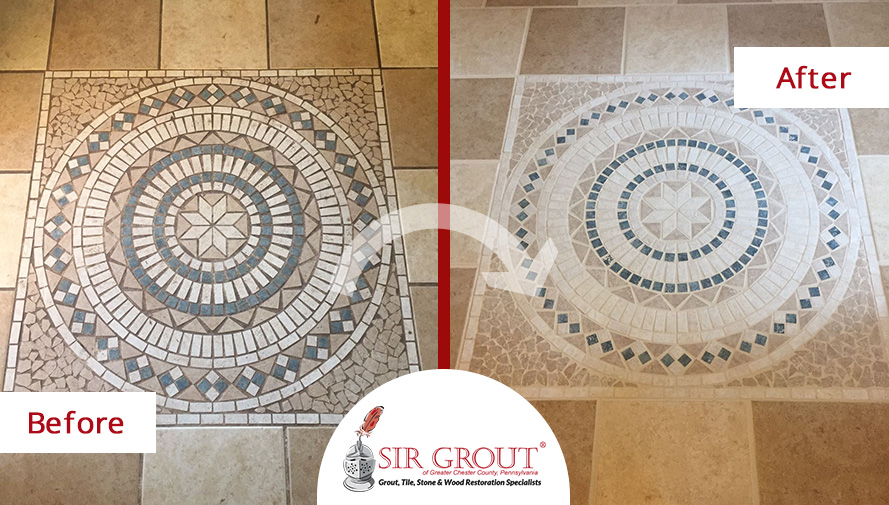 Arriving at the spot and assessing the area
This medium-sized terrace overlooked the yard with a panoramic window and it was decorated with elegant, neutral colored furniture. It was beautiful, but the dirty grout made the floor look dingy and rather rustic, which did not match the classic and clean style the owners wanted to achieve. Looking at the terrace floor, it was obvious why they called us. The most noticeable problems were how dulled and scratched the stone floor and medallions were, and the dirty, stained grout. There were a few things that the clients expected by the end of our work: the floor and grout should be easier to clean, the grout between the mosaic pieces should be a new, clean color, and the whole stone floor should look revived. We had exactly the services they needed to fulfill their wishes and we proposed stone cleaning, grout cleaning, and ColorSealing.
The intricacies of mosaic
Mosaic is a century-old technique that, even now, is still very popular. It always looks elegant, and it can be adapted to traditional or contemporary designs alike. Its appeal shows no sign of diminishing. The stone medallions in our clients' terrace were created with the indirect method of mosaic, in which small pieces of material are temporarily put together on an adhesive substrate, to later be secured to the ground with grout. They used the regular cementitious grout, which is porous and absorbs liquids, stains easily, and collects a lot of dirt. Naturally, a better choice of grout (epoxy grout) had to be used this time. This floor and grout were originally not treated with epoxy resin or sealant, which was partly responsible for their deterioration. One of the reasons why mosaic is so difficult to clean is because of its small pieces, laid out in an intricate pattern. Homeowners tend to end up neglecting the care of the grout between mosaic pieces for this reason. It would be very time-consuming to attempt to deep-clean the grout between each piece by oneself.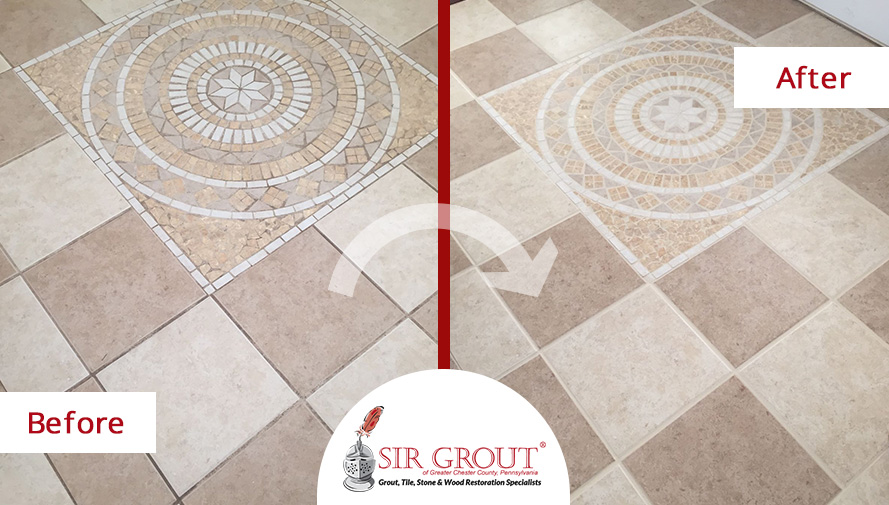 The restoration process
The first procedure we did was overall cleaning of the stone floor and grout between the tiles and the mosaic pieces. For this, we used a high-speed scrubbing machine, and a vapor steam machine for stubborn grime. Next, it was time to apply ColorSeal—our own top-quality grout sealant that makes the grout resistant to stains, spills, mold, and mildew, while giving it a new color. In this case, the owners wanted the floor to look more delicate, so they went with light-colored grout to match their classic furniture and neutral color palette. ColorSealing also makes cleaning incredibly easy—just by wiping a damp cloth on the medallion, you'll get rid of the dust and grime. Also, spills won't permeate the grout either with ColorSeal.
For the final touch, the floor and the medallion were given a coat of TileArmor, which protects the surface against wear and tear, spills, and stains. After, the grout lines were clean and since they were sealed in a light color, the medallions stand out. They look sleeker than before; their appearance was noticeably different.
Our clients are delighted with the results of the procedures, and are looking forward to having us back for more work on their marble backsplash and their marble vanity. Our team at Sir Grout of Greater Chester County takes pride in providing excellent service with quality experience.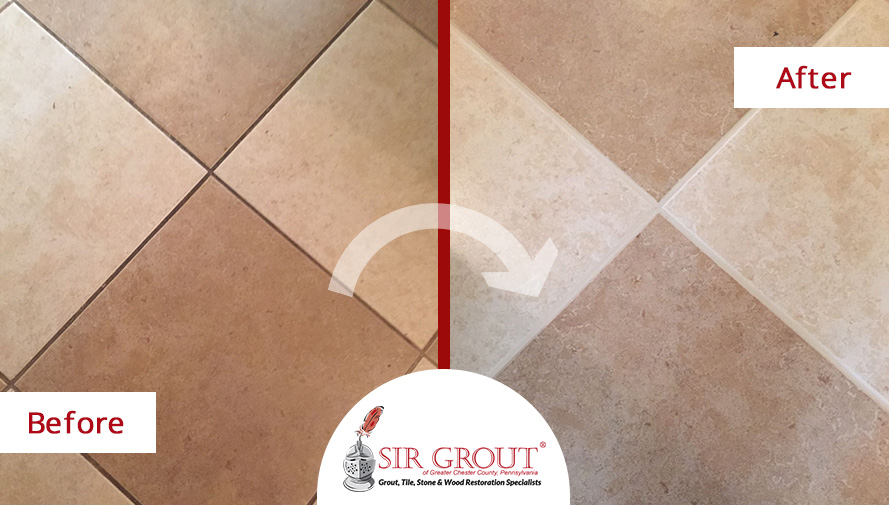 Keeping mosaic beautiful
The following recommendations that we shared with our clients will prove useful for anyone who has mosaic floors. To start, the best way to clean the mosaic tiles after they're sealed is using a cloth lightly dampened warm water with a pH neutral cleaner. This is to remove any product residue that might stain the grout. Avoid DIY cleaning solutions, they might do more damage than good! It is also important to wipe the tiles and grout dry with a cleaning cloth, you don't want water to seep into the grout or tiles. We also advised our clients not to drag heavy furniture around, as this could cause rather deep scratches or marks across the floor. Finally, frequent vacuuming is a good idea; sweep the dust and debris to loosen it up, then vacuum. However, you should mind the type of broom you choose! Synthetic bristles are best because they are softer and will not scratch stone surfaces.
Contact us for high-quality stone cleaning services!
Do you want to have your stone floor medallions refreshed? Sir Grout of Greater Chester County has the best cleaning services and the best trained technicians to fulfill your expectations. Feel free to give us a call us at
(215) 609-4868
. If you want a free in-home consultation, fill out the form that you'll find on this website. Follow us on
Facebook Sir Grout of Greater Chester County
, on
Twitter @SGChesterPA
, and
Instagram @SirGrout
. Don't forget to subscribe to our
newsletter
!