Check out How Our Grout Cleaning Specialists in Wayne, PA Completely Restored This Shower's Appearance
December 15, 2017
Keeping your tiles clean is relatively easy. However, homeowners often make small mistakes that can lead to bigger problems later. That is what happened to this homeowner, whose cleaning routine had ended up deteriorating the grout in her shower. She eventually realized that her cleaning efforts would not be enough to restore her discolored grout, and she decided that it was time to call a team of hard surface restoration professionals. She had heard of Sir Grout of Greater Chester County's
grout cleaning in Wayne
, PA from a friend who had hired us to clean her shower. She highly recommended us because of the excellent results we had achieved and our superior customer service. The homeowner did an online search and found us among the top search results. She went to our website, filled out our form to request an in-home consultation, and we set a date to assess her shower.
On the day of the consultation, the homeowner led us into the master bathroom, which contained the shower that she wanted us to service. Our team of technicians noticed that the dingy grout lines in her shower made her tiles look dull and lifeless. The grout was also discolored. In addition, mildew and hard water stains had formed on the shower door. When we asked the homeowner about how she cleaned the grout lines, she said that she had been using a DIY vinegar solution that had worked well for a while. Eventually, she began noticing that the grout looked discolored even though the tiles were very clean. The grout's white color had faded and now had a dirty yellowish shade. She did not understand why this was happening. We told her that the vinegar solution was most likely the reason why the grout lines had become discolored and had slightly broken down. She also told us that she cleaned the glass door very carefully, but dirt had still accumulated on it. We could see that there was a sticky haze covering the door, especially at the bottom where water splashes.
As soon as our technicians found out how this client cleaned her shower, we knew that her use of vinegar was to blame. We always advise our clients to be careful about using DIY cleaning solutions on their hard surfaces, as the wrong choice can ruin the appearance of tile, grout, and glass. DIY cleaning solutions can be good if they are used on the correct surfaces and in the right concentration.
We explained to this homeowner that vinegar is very acidic and deteriorates and discolors grout. However, we also told her that it is a good idea to use vinegar on her shower door because vinegar cleans glass well. However, this homeowner did not know about that trick. Instead, she had been using a thick, soapy cleaner on the door. These types of cleaners are not good for most hard surfaces because they deposit a film on them that eventually attracts grime.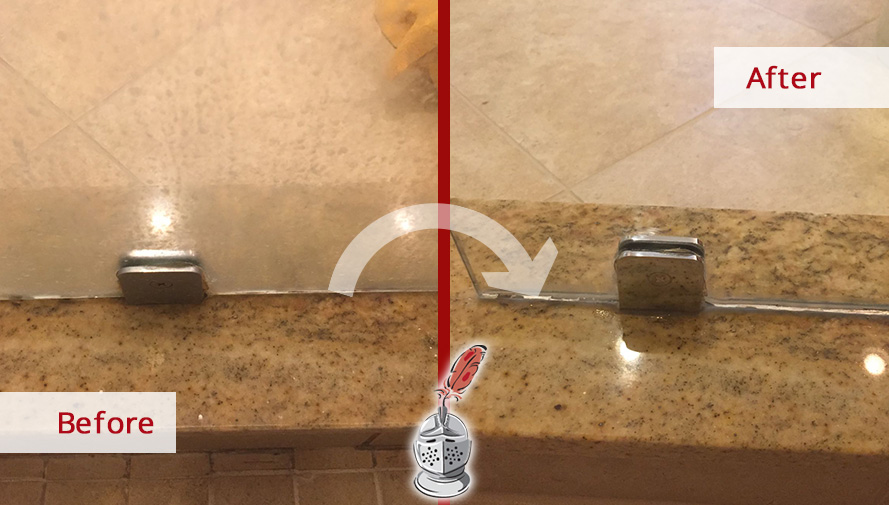 To fix the problems in her shower, our experts told her that our grout cleaning service and a healthy dose of our proprietary product, ColorSeal, would do the trick. Additionally, we told her that we could clean the shower door. The client immediately accepted our offer, and we agreed on a time for us to come back and get started.
A few days later, we returned to the client's house and got to work. The first step was to apply a tile and grout cleaner to the shower walls and floor. We let this product sit for a few minutes to make it easier to remove the deep-seated grime. Then, we completely removed the grime with a high-speed scrubber and a vapor steam cleaner. The vapor steam cleaner was especially important because it helped loosen up any grime that was left on the grout lines while disinfecting them at the same time.
Once the surface was clean, our technicians applied our proprietary product, ColorSeal, to the grout lines. This epoxy-based product is the perfect solution for dingy and discolored grout. It recolors grout lines, and clients can choose from one of many colors to complement their tiles or décor. This product seals grout with a waterproof and stainproof coating that provides protection against mold and mildew. One of the best features of ColorSeal is that it also makes it easier to clean grout lines.
At this point, the shower was already looking completely renewed, but we still needed to clean the tempered glass door. We used our vapor steam cleaner to loosen up the mildew, and then we used appropriate cleaners to remove the hard water stains on the glass.
The client was very happy to see that her shower was completely renewed. She thanked us for our helpfulness and asked us for some care tips, so after we finished, we provided her with a few care tips for her to follow. First and foremost, cleaning grout with vinegar or highly acidic cleaners had to stop! We told her that a mild cleaner diluted in water would get the job done. Likewise, ColorSeal makes it easier to clean grout and helps keep moisture away. However, we told her that she still should squeegee the tiles or wipe them dry with a microfiber towel.
We also advised her to use same procedure on the glass door to prevent hard water stains and etches. Unlike with grout lines, vinegar cleans glass very well. A DIY solution made with water, vinegar, and a mild dishwashing detergent will keep glass clean, clear, and reduce soap scum and product buildup. Many experts also recommend avoiding bar soap because most bar soaps contain talcum, which is more likely to cause hard water stains. With these simple care tips, the grout, tiles, and glass in this shower will be in perfect shape for a long time to come.
If you need expert technicians to restore your grout, tiles, and other hard surfaces, do not hesitate to contact Sir Grout of Greater Chester County. Our results will exceed your expectations. You can schedule a free consultation by filling out the form that you'll find on this website or call us at
(215) 609-4868
. Our experts will be happy to help you. Find us on
Facebook (Sir Grout of Chester County)
and follow us on
Twitter (@SGChesterPA)
, and
Instagram (@sirgrout)
. You can also subscribe to our
newsletter
to learn more about our services and get valuable tips on how to take care of your hard surfaces.