From Dull to Bright: See How Our Tile and Grout Cleaners in Drexel Hill Revamped This Gray Bathroom
March 28, 2018
For the last five years or so, gray shades and tones have become a fan favorite among homeowners and architects alike when it comes to interior design. Gray by itself adds an aura of sophistication to any room, and when mixed with another color, it can evoke a plethora of emotions without abandoning that elegance. However, when a young homeowner began to encounter the wrong shade of gray in his bathroom, our
Drexel Hill Tile and Grout Cleaners
proved to be the best choice to transform his bathroom to a bright and modern gray again.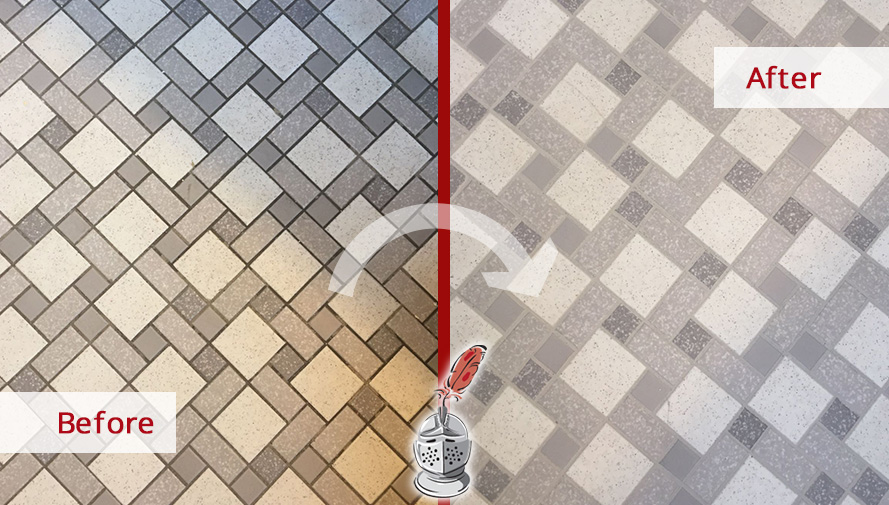 It all started a couple of years ago when this young man decided to remodel his bathroom and thought it would be a good opportunity to get into the whole gray trend. He placed gray ceramic tiles all around the shower wall and decorated the bathroom floor with a mosaic of different shades of gray.
At first everything looked great. Aesthetically, it was exactly what he was looking for. However, not long had passed before it went from modern gray to very dull, due to dirt that had been accumulating all over the grout lines, caulk and tiles. Clearly something was wrong, and he felt compelled to find a solution.
He first tried a few DIY cleaning methods he found in hopes of solving the problem, then opted for heavy scrubbing and the use of chemical cleaners, but things only seemed to get worse. The grout and caulk even began to fall off. That's when he decided to look for professional help and googled, 'tile and grout cleaners in Drexel Hill'. There he found our website, and after going through several blog posts and reading reviews, he contacted us for an in-home evaluation.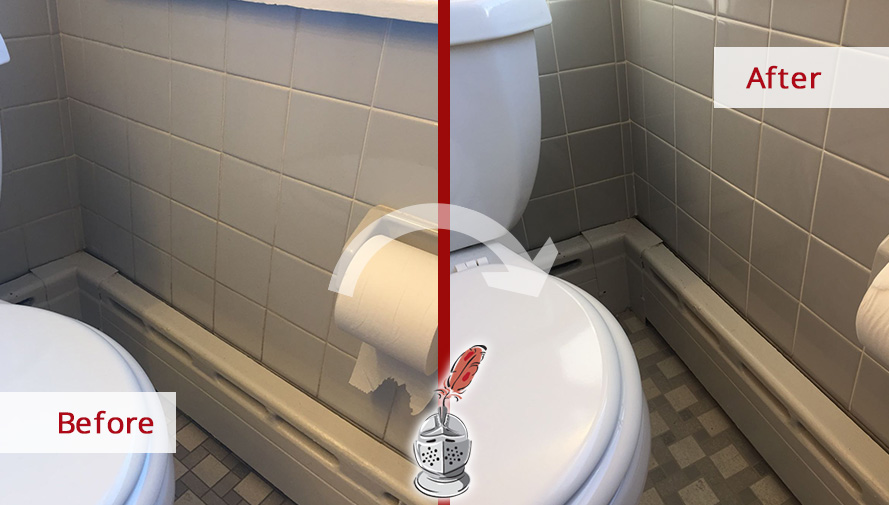 Evaluating the Bathroom
On the agreed-upon date, our team of experts arrived to assess the situation. Just like the man described, the grout lines on both the bathroom floor and shower walls looked dirty with grime that had piled up on top and between the tiles. Upon further inspection, there were areas in which the grout and caulk was completely missing from the shower walls.
Therefore, our experts recommended doing a deep clean in order to get rid of all the dirt that was making the bathroom look dull. Then, they would remove and replace the grout and caulk with a more durable type of grout. Finally, they would finish of process by applying ColorSeal to protect, recolor, and make the grout a lot easier to clean.
The young man was pleased with our crew's assessment and booked the next available date to get things started. He also asked us to change the color of the floor's grout when he found out it was possible with ColorSeal.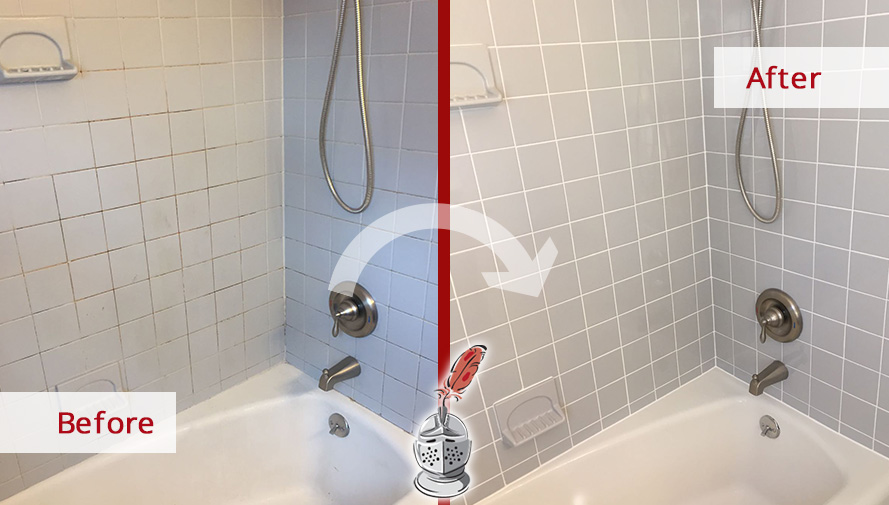 Restoring the Bathroom
As scheduled, our crew stepped into the young man's house and headed straight to the troublesome bathroom. After quickly clearing the area, they began the cleaning process by applying the appropriate cleaners on all surfaces. They let the solution sit for a few minutes to loosen the embedded dirt before using a scrubber to remove it. Finally, they ended the deep cleaning process by steam cleaning the tough and hard-to-reach places.
Once all the surfaces were clean and dry, our crew proceeded to replace the remaining caulk and grout with epoxy grout. This special plastic-based grout doesn't accumulate as much moisture as more common latex- and silicone-based grout, making it more durable, as well as mold and mildew resistant. This fact alone makes it better suited for humid places such as bathrooms.
Finally, the new grout and caulk was ColorSealed for added protection and looks. The shower walls were left with a bright white caulk and grout, while the grout on the bathroom floor was changed to a lighter shade of gray, just as the client requested.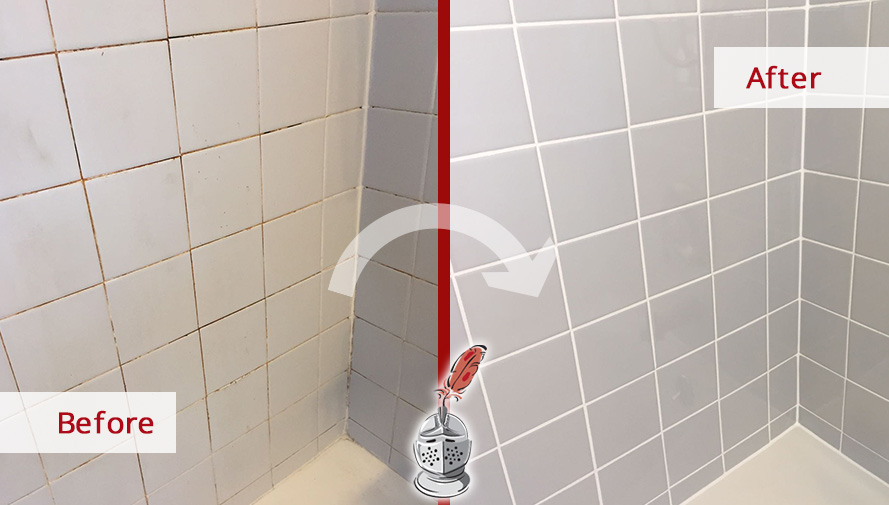 The Results
Once the service was done, the young homeowner was called to take a look at the results. He encountered a completely renovated and modern looking gray bathroom. The gray surfaces were now clean and sophisticated. He was noticeably pleased—it didn't look dull anymore!
Before calling it a day and heading out, our experts shared a few handy pointers to help the young man maintain the ColorSeal and thus protect his revamped gray bathroom:
Periodically check the sealant:
Placed over the grout lines, the sealant acts as an extra layer and protective shield to the grout. Over time, and due to wear and tear, the sealant may stop working properly. Therefore, it's advisable to check it every three months by simply placing a few drops of water on the surface. If the water beads, the sealant is fine. If it is absorbed, the grout needs to be resealed.


Using unsafe chemicals can compromise the sealant:
Where ColorSeal is applied, petroleum-based cleaners, such as acetone, lacquer thinner or mineral spirits, should be avoided at all cost. These chemicals can compromise the sealant's properties, thus leaving the grout unprotected.


Heavy scrubbing is not the solution:
Excessive scrubbing or friction can damage the sealant and eventually make grout peel off the surface. Remember that surfaces protected with ColorSeal are much easier to clean, so heavy scrubbing is completely unnecessary.
You Too Can Renovate Your House with a Grout and Tile Sealing Service near You!
If any room in your house is in dire need a professional grout and tile cleaning service, be sure to give us a call at
(215) 609-4868
or simply fill out the "Request a Quote" form on this very page to book a free in-home evaluation. Also, follow our work on
Twitter @SGChesterPA
and
Instagram @SirGrout
, find us on
Facebook as Sir Grout of Greater Chester County
, and take advantage of our latest offers, promotions, and more by subscribing to our
newsletter
!