Grout Cleaning Service Gives This Lobby in Essington, PA a Brand-New, Professional Look
August 19, 2016
They say first impressions are the most important. This could not be truer when talking about an office lobby. The impression customers have of your business is mostly based on what they see when they walk in, and appearances can go a long way with customers. However, dirty grout lines and tiles can affect the image that a business desires to project and can easily detract from the client experience. We recently received a call from a local business by the airport that had dark and faded grout lines. The owner had become concerned about the impression that clients would get when walking into the worn-down lobby.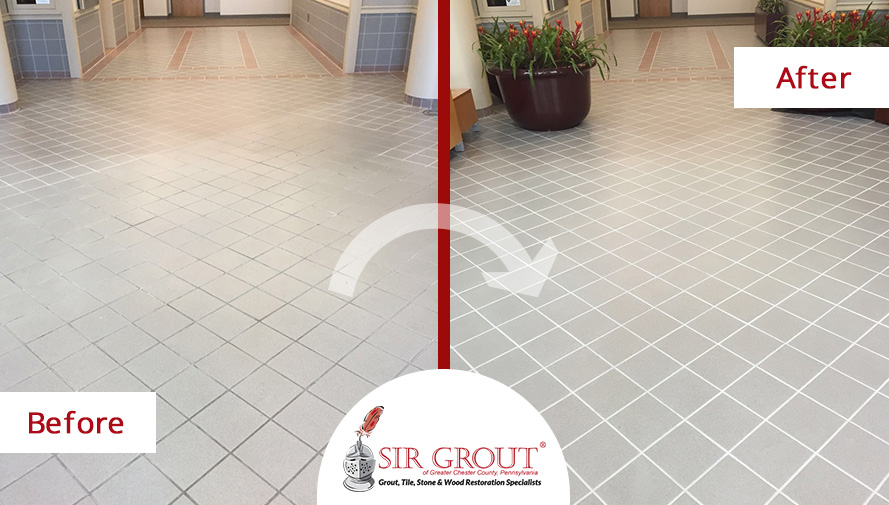 He was determined to find the best
Essington grout cleaning
service, so he went online and quickly found Sir Grout of Greater Chester County in the first results. He was thrilled to see that we offered our services to commercial establishments that needed to renew their grout and tile. So, he called us and scheduled a free inspection with our team of specialists.
The lobby is certainly one of the most high-traffic areas in any commercial building. This means that the floor is usually subjected to high amounts of dirt, which makes it suffer from more wear and tear. Therefore, it's no surprise that the grout becomes stained or discolored as a result. Furthermore, cleaning grout is a challenging task due to its absorbent and porous nature that traps dirt and stains. Most cleaners prove inefficient when trying to restore the grout lines original appearance, and this, in turn, affects the appearance of the entire floor.
When our team arrived at the establishment, they got to work right away and performed a careful inspection of the lobby's floor and walls, which also had ceramic tiles. They knew the solution involved deep cleaning the tile and grout on the floor and walls, but to really give the lobby a fresh, new look, the grout lines required sealing and recoloring. They reassured the owner that he would not have to replace his floors, and the team was excited to take on the challenge of renovating the lobby's professional image.
On the day of the job, our specialists began the process of deep cleaning the floor by applying a pH-neutral cleaner with a high-speed scrubber to extract as much dirt as possible from the tile and grout. The next step was to use vapor steam cleaning to remove the remaining dirt that was trapped in stubborn areas, making sure that the floor and the walls were as clean as possible for the final step. Our specialists applied ColorSeal, our proprietary tinted sealer, in a shade chosen by the customer that beautifully enhanced the appearance of the tile floors and walls. Thanks to this process, the grout lines looked as good as new and were now protected against dirt and stains.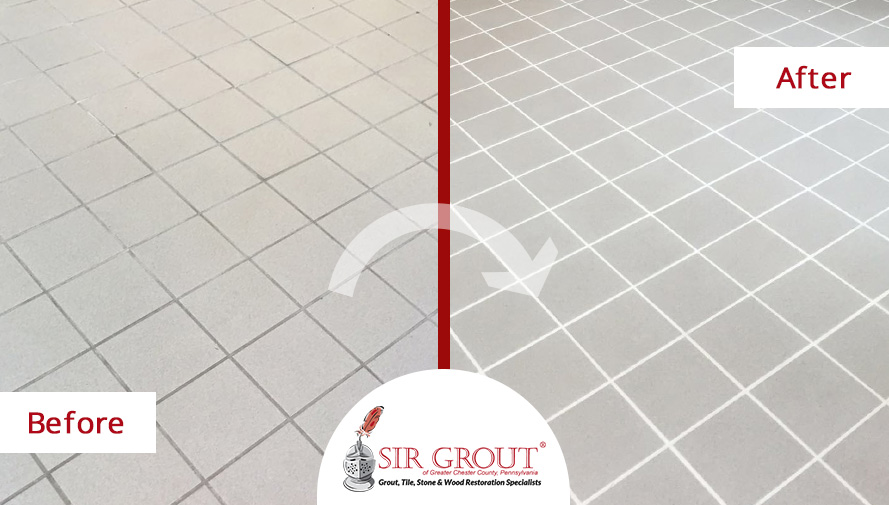 Once our team made sure that everything was perfect, they called in the owner and showed him his revamped lobby. He was pleasantly surprised and couldn't believe how different the floor looked. He could now rest assured that his clients would receive a positive impression when walking into the lobby. Since he was so satisfied with the results and wanted to preserve the new appearance of his hard surfaces, he signed up for a quarterly maintenance program with us to maintain the sealer and its appearance.
Renewed and well-sealed grout not only improves the appearance of a business, it actually creates a healthier workplace. ColorSeal offers protection against spills and is resistant to contaminants like mold, mildew, and dirt brought in by foot traffic, which guarantees a more comfortable and healthier environment for your customers and employees.
If you think your office lobby might be in need of a grout cleaning and recoloring service, don't hesitate to contact Sir Grout of Greater Chester County. We will gladly help you recover your hard surfaces. You can contact us by calling
(215) 609-4868
or by filling out the form below. For more information about our services, don't forget to subscribe to our
newsletter
, like our page on
Facebook at Sir Grout of Chester County
, and follow us on
Twitter @SGChesterPA
and
Instagram @SirGrout
.