Stone Sealing Service in Glen Mills, PA Restored This Dull Slate Floor to a Satin Finish
June 17, 2016
One of the best things about choosing slate is that each tile of this natural stone is completely unique. When this homeowner moved into her house, she knew that she wanted to give her home a unique touch, so she chose beautiful slate tiles in shades of brown. She was thrilled with her natural stone floor, but over the years, heavy foot-traffic and improper cleaning methods had made the surface dull and obscured the stone's true colors.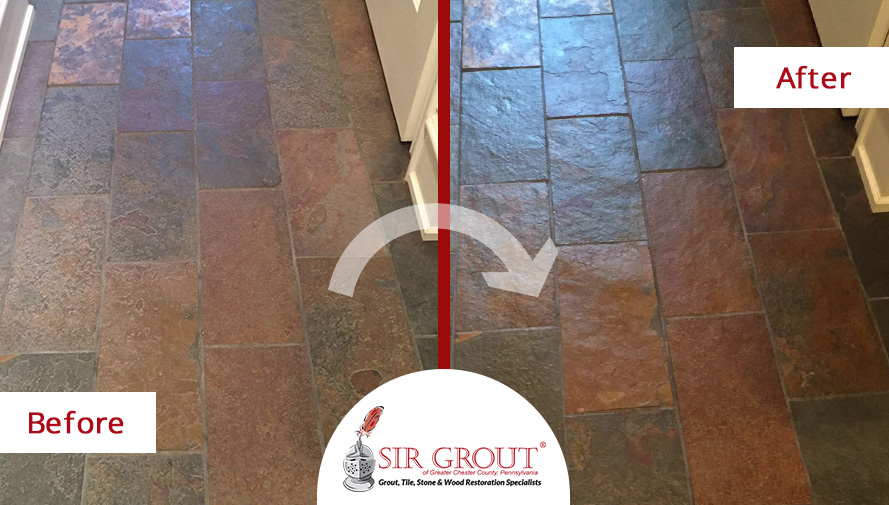 The homeowner quickly realized that regular cleaning products were not solving the problem. She needed to find a professional hard surface restoration company that could recover the slate tiles' former beauty without having to replace them. Fortunately, she went online and found our local
Glen Mills stone sealing
services in the top results. She browsed our website and found the wonderful reviews and testimonials from other customers. She also found our blog. Once she saw all the amazing restorations we had done, she felt assured that we could take on the important task of recovering her slate floor.
When we arrived to assess the state of her slate floor, we noticed that the colors of the stone were muted. We suspected that aggressive cleaners were responsible for the current state of the stone surface, and our suspicions were confirmed after we asked the homeowner to describe her cleaning routine. We explained to her that although slate is very durable, it tends to lose its color over time if it's not properly maintained or sealed. Like most natural stones, slate is porous, and even though there are some varieties of slate that have a lower absorption rate than others, it is recommended that it be sealed to prevent stains and dirt from getting stuck in the stone's microscopic pores, which can make it lose its natural appeal. Thankfully, the homeowner had called us before it was too late to solve the problem. We were happy to inform her that we could restore her slate floor with a proper stone cleaning and sealing service.
To clean the stone, our team of experts used pH-neutral chemicals and a soft brush scrubbing system to get rid of the dirt and grime. Then, to address the dull appearance of the stone floor, the team decided to seal the slate with our satin finish product, which gave the floor a lovely sheen and would prevent stains, grime, and dirt from penetrating the surface. It also brought out the beautiful brown shades of the stone and made it look like new once again.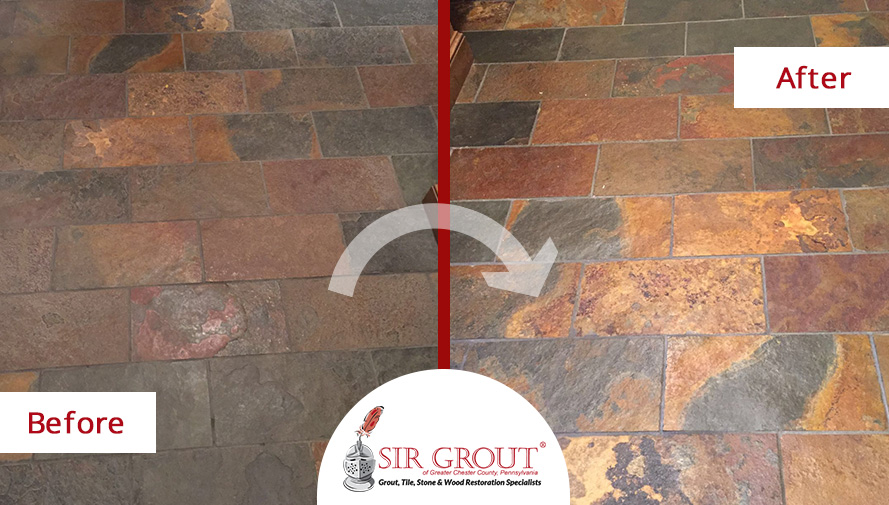 The team had accomplished yet another flawless job, and they were excited for the homeowner to see the glossy slate floor. She was so happy to see her floor completely renewed and told us that it looked better than ever! She thanked our team and promised to recommend our services to family and friends, which was great to hear.
Slate needs to be sealed to preserve its appearance and protect it from dirt and stains. This should be done after the slate is installed. After that, it should be resealed every year to keep it in perfect condition. Once it is protected, slate becomes very easy to maintain, but the floor should be swept, vacuumed, and mopped periodically. It's very important to remember to use a stone-safe cleaner, as acidic or abrasive cleaners will damage the stone.
Do your slate surfaces look like the one in the picture above? Don't let your surfaces fall into disrepair. When your natural stone surfaces become dull, damaged, or discolored, the experts at Sir Grout of Greater Chester County can provide professional stone cleaning and sealing services. You can contact us for a free evaluation by calling
(215) 609-4868
or filling out the form below. For more tips on how to take care of your hard surfaces, like our page on
Facebook at Sir Grout of Greater Chester County
, and follow us on
Twitter @SGChesterPA
and
Instagram @SirGrout
.