This Black-and-White Marble Floor Regained Its Shine after a Honing and Polishing Service in Conshohocken, PA
February 21, 2018
A 50th wedding anniversary isn't called a golden anniversary for no reason. Everything should shine, and this black-and-white marble floor was no exception thanks to our
stone honing and polishing service in Conshohocken, PA
.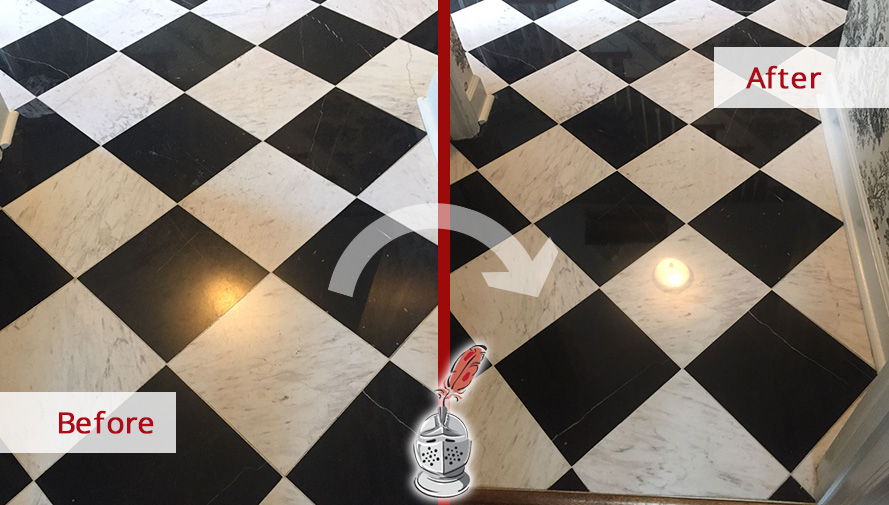 That was exactly what this homeowner was thinking when he was faced with the task of planning his parents' 50th wedding anniversary.
It was an honor for this homeowner to host the event for his parents. He grew up in a loving family, and this party was the least he could do to show his appreciation. As a result, he wanted every little detail to be perfect, and most importantly, he wanted his parents to feel comfortable. He knew that finding the right balance would not be easy. Everything about a 50th wedding anniversary celebration conjures up images of glamour and extravagance, yet his parents were very simple and down to earth.
His first task was to find a venue where they would feel comfortable and really enjoy themselves. He went to every place he could find, but none of them seemed to fit the bill. That's when it came to him—why not have the party in the comfort of his own home? After all, he had a big, fancy house that could easily accommodate the entire guest list. All he needed was to do a little cleaning beforehand to get everything in tip-top shape for the big celebration. Or so he thought…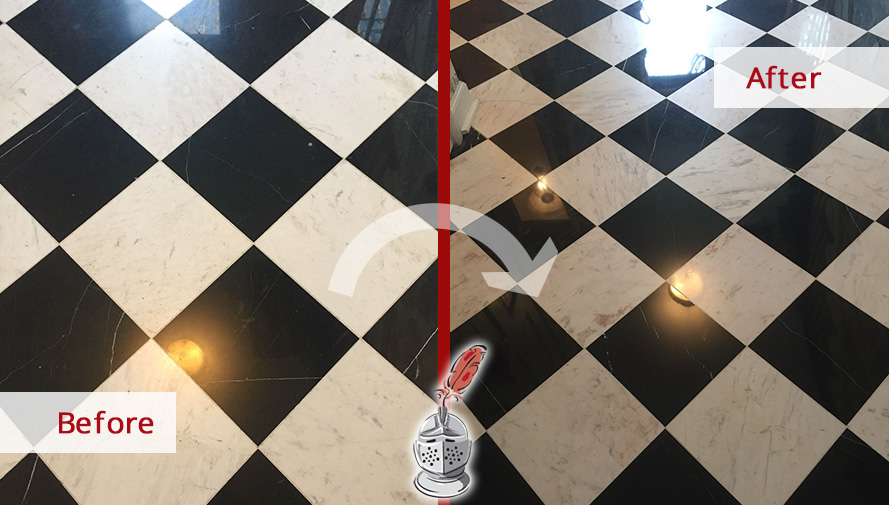 He didn't waste any time and started cleaning the house the following weekend, and everything seemed to be going as planned—except for the floor! No matter what cleaning product he tried, it simply did not regain its shine or live up to the special occasion.
That's when he remembered a honing and polishing service that we had done at his office a while back. Everyone was pleased with the results, so he decided to look us up. He easily found our website on Google. He browsed through our blog posts section to see what other clients thought about our honing and polishing services and felt confident that we could solve the problem. He contacted us for a free, in-home evaluation.
The Evaluation
On the day of the evaluation, our team of experts quickly started examining the black-and-white marble floor. It was covered in dirt, just as the homeowner had told us. However, upon further inspection, our experts noticed that there also were stains and etch marks that were likely caused by years of heavy foot traffic and incorrect cleaning methods.
To address the problem, our crew suggested a deep cleaning to remove any trace of dirt from the surface. After that, they said the best course of action would be our multistage honing and polishing procedure, which would remove stains and etch marks and give the floor a glossy finish.
The homeowner agreed. He hoped that his floor would be ready for the big event.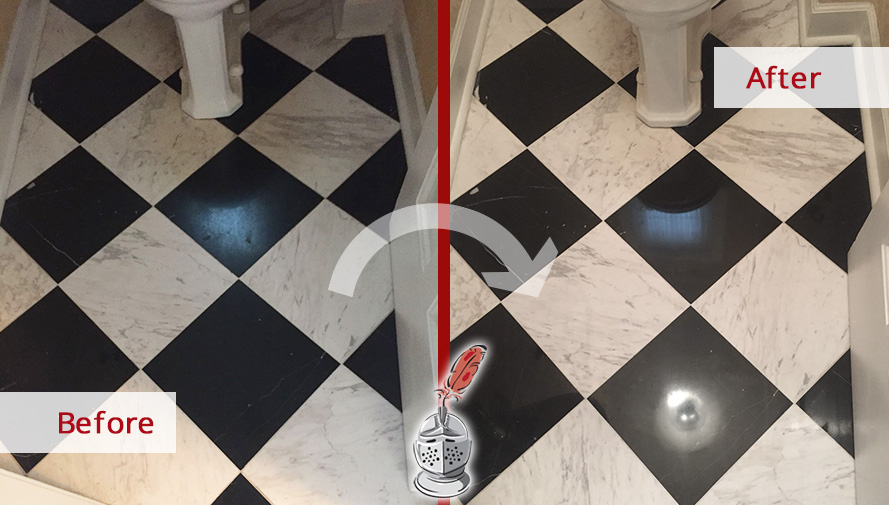 The Restoration
A couple of days later, our team of technicians arrived to get to work on the checkered floor. They began by cleaning the dirt from the surface with a stone-safe cleaner and a high-speed scrubber. Then they deeply cleaned the hard-to-reach, troublesome areas with a vapor steam cleaner.
Once the surface was completely clean, it was safe to start the honing process. Our technicians began by carefully removing the stone's outer layer with a low-grit pad. This also got rid of the stains and etch marks. Then our team gradually increased the level of grit and polished the surface with special powders to obtain the shiny finish that the client was hoping for.
The Results
When we had finished, the checkered floor looked gorgeous. It was ready to shine for the couple's golden wedding anniversary. The homeowner was very pleased with the outcome. The results were even better than he expected. Now he could comfortably host the celebration without having to worry about the dirty floor. Plus, the best part of all is that he will be enjoying his glossy floor for years to come.
Before leaving, our specialists gave the homeowner a couple of handy tips on how to keep his glossy black-and-white marble floor in the best possible condition:
Always use stone-safe, pH-neutral cleaners, as other types of cleaners can cause damage.

Sweeping and dusting the surface regularly can help prevent scratches and etch marks.
A Stone Honing and Polishing Service near You!
If you need professional help to make your stone surfaces shine again, give us a call at
(215) 609-4868
or simply fill out the "Request a Quote" form on this page to schedule a free evaluation. Be sure to find us on
Facebook as Sir Grout of Greater Chester County
, and follow us on
Twitter @SGChesterPA
, and
Instagram @SirGrout
. You can also subscribe to our newsletter to learn about our latest promotions.