A Thorough Grout Cleaning Service Revitalized This Homeowner's Floors in Glen Mills, PA
May 30, 2016
Few things are more satisfying in life than owning your own place, so the fortunate people who are able to purchase a home often see it as a symbol of their success. This couple from Glen Mills, PA felt that way about their house, but they became very concerned when they noticed how the grout lines in several areas of their beloved home were grimy and discolored. They decided to do something about it and drove to the store to get some cleaning products, but none of the products seemed to work. In fact, the floors started to look worse. After many failed attempts to fix the problem themselves, they decided to search online for a solution to their grout problem by looking for
Glen Mills grout cleaning
services. They immediately found Sir Grout's residential tile and grout cleaning and sealing services. After browsing the website, they decided to give Sir Grout of Greater Chester County a call.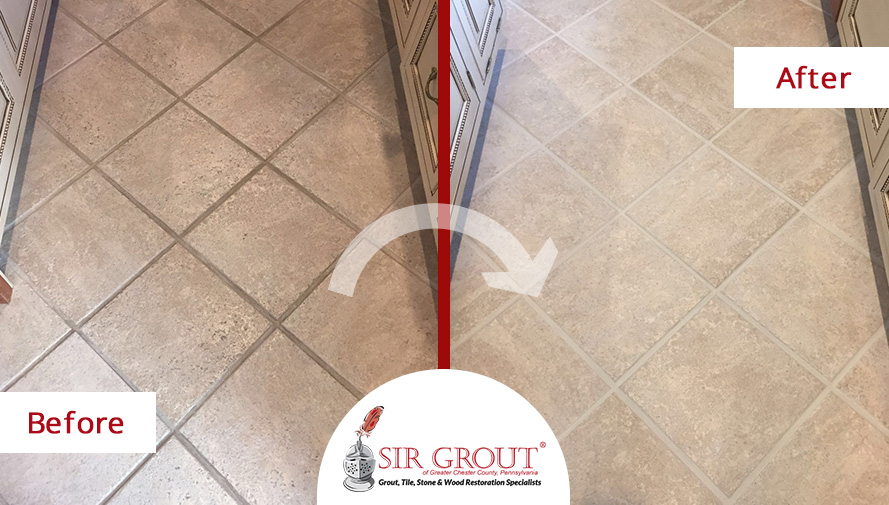 The customers asked themselves how their tile and grout lines could have changed so drastically if they cleaned their floors frequently. There is a very simple explanation, but first, it's important to learn a bit more about grout. There are three types of grout: sanded, unsanded, and epoxy grout. Sanded and unsanded grout are susceptible to dirt, moisture, chemicals, and abrasive cleaning agents because of the porous nature of their main ingredient, which is cement. Epoxy grout, on the other hand, is made with epoxy resins and filler powder, which create a water-resistant barrier that also prevents fungi and bacterial growth. This type of grout is ideal for surfaces that are exposed to moisture or grease, which makes it perfect for kitchens and bathrooms. This was precisely the solution our customers were looking for.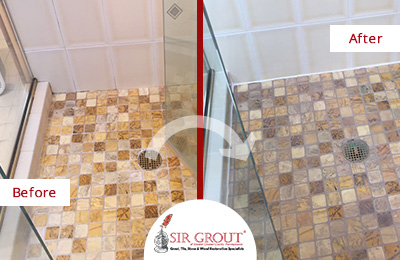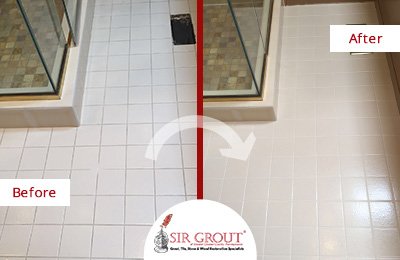 When the Sir Grout team went to the couple's home for the first time, they performed a free evaluation of their tile and grout and came up with a plan of action. Once the customers were satisfied with our evaluation and explanation of the process, the team visited them again and proceeded to clean the floors with a non-toxic, pH-neutral tile and grout cleaner. After that, we performed a vapor steam cleaning process to thoroughly remove any remaining dirt. Finally, we applied our proprietary grout sealer, ColorSeal, to protect and shield the surface from further damage. ColorSeal is a sealer designed to recolor and protect grout lines from water and stains, and when the surfaces are properly taken care of, it can last as long as the grout itself. The cleaning and sealing process was performed in the kitchen, bathroom, and shower.
After the job was done, the team invited the couple to inspect their kitchen, bathroom, and shower to see the results. Their faces lit up with joy! They couldn't believe how our team completely transformed their surfaces to look even better than before. Their days of worrying were now officially over.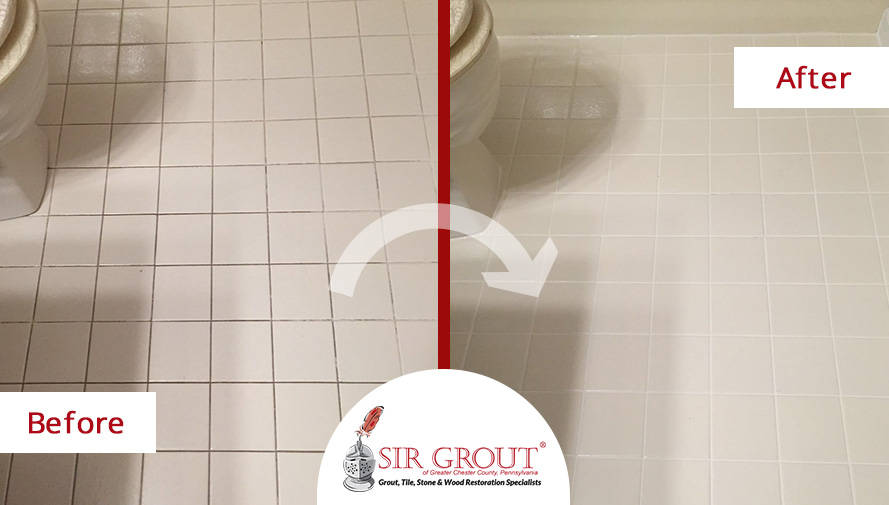 To prevent your grout from staining or cracking, it's necessary to understand exactly which type of products are appropriate for grout cleaning. Most people think that vinegar is a miracle cleaner, but there is nothing worse for your tile floor than using acid, ammonia, or soap-based cleaners because they affect the grout's color. Therefore, a good tile and grout cleaner should be neutral and soap-less. After you've finished cleaning, remember to dry the surface to remove the dirty water and cleaner residue. Also, vacuum your floors frequently to remove dirt and dust that would otherwise build up and discolor your grout.
For a professional grout cleaning and sealing service, look no further! Sir Grout of Greater Chester County relies on highly trained hard surface restoration experts that perform each job with the utmost professionalism and quality of service. Contact us for a free evaluation by filling out the form below or by calling
(215) 609-4868
. Don't forget to like our page on
Facebook at Sir Grout of Chester County
, and follow us on
Instagram @SirGrout
and
Twitter @SGChesterPA
!