Welcome to the Terracotta category for the Sir Grout of Greater Chester County Blog. Here you'll find blog posts related to terracotta surfaces that we've restored. See the amazing transformations with the included before and after pictures. Feel free to share and leave your comments.
Published October 24, 2019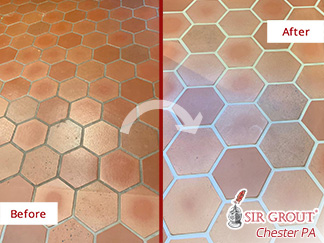 Terracotta Kitchen Floor in Newtown Square, PA Says Goodbye to Dingy Grout Lines Thanks to a Grout Sealing Service
These tiles were in great shape, but the same couldn't be said about the grout lines. Concerned, the homeowner went online and searched for advice. He found grout tends to discolor when it hasn't been properly sealed.
READ MORE
Published June 06, 2019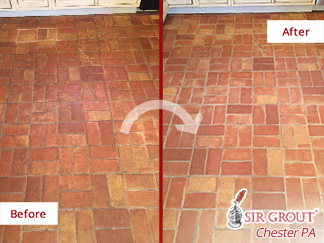 This Home's Terracotta Floors are Now Free from Dirt Thanks to a Stone Cleaning Service in Gladwyne, PA
Terracotta is one of the oldest tile materials around and it's widely known for its durability and rustic appearance. Even though well-made terracotta tiles can last forever, it's necessary to keep them properly maintained to avoid costly repairs.
READ MORE