Welcome to the honing category for the Sir Grout of Greater Chester County Blog. Here you'll find blog posts related to stone and tile surfaces that we've restored. See the amazing transformations with the included before and after pictures. Feel free to share and leave your comments.
Published February 21, 2018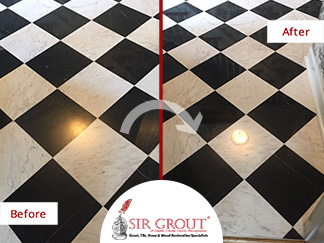 This Black-and-White Marble Floor Regained Its Shine after a Honing and Polishing Service in Conshohocken, PA
A 50th wedding anniversary isn't called a golden anniversary for no reason. Everything should shine, and this black-and-white marble floor was no exception thanks to our stone honing service in Conshohocken, PA.
READ MORE