An Outstanding Grout Cleaning Job in Collegeville, PA Fully Restored the Damaged Grout of This Floor
October 19, 2018
Tile is one of the most common choices for kitchen flooring. It is durable, versatile, water-resistant, and difficult to stain. It is also available in a wide array of colors, styles, and shapes. A popular material for tile flooring is porcelain. It provides an excellent option for areas with high foot traffic, such as the kitchen. With proper maintenance, it can look good for years. Compared to other materials, porcelain tiles are fairly easy to keep clean. For this reason, many homeowners find this type of tile alluring for their kitchen. However, there is one difficult area in tile upkeep: grout. It is an essential component for tile installation, but the grout lines absorb dirt, water, cleaner residue, and other harmful agents quite easily. Once they become damaged, stained, and discolored, the entire floor will have an unsightly appearance. When this happens, special equipment and methods are required for full restoration.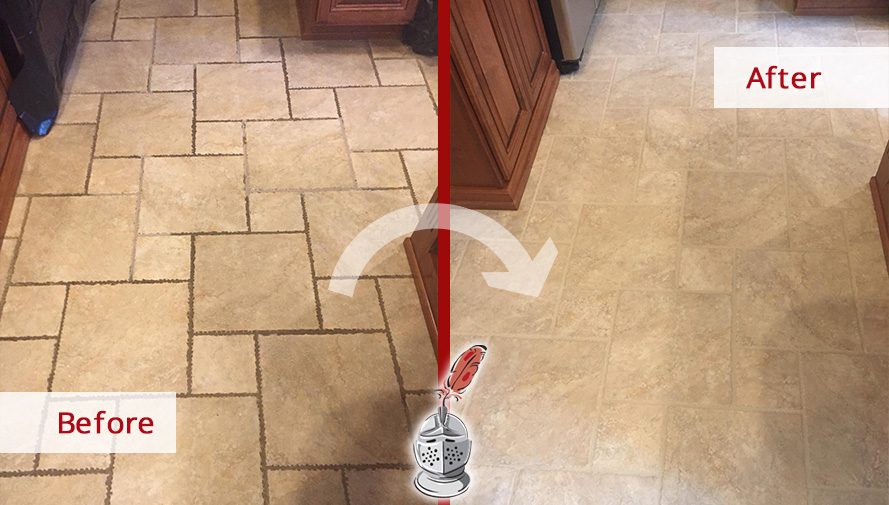 Cleaning grout is a difficult task. It is a time-consuming endeavor that often gets overlooked. Because of this, the condition of the grout lines only gets worse as time passes. For our next client, a housewife from Collegeville, PA, the upkeep of her kitchen floor had never been a problem. It was easy for her to maintain the porcelain tiles in perfect condition. All she needed to do was to have regular cleaning routines. She never missed one, performing them every one or two weeks. Nevertheless, daily wear and tear had taken a toll on the grout. It had become damaged and had a darkish color. Furthermore, some lines didn't have grout at all. When the woman noticed the deterioration, she was determined to solve the problems, but she knew she couldn't do it on her own. She needed our
grout cleaning professionals in Collegeville, PA
to make her floor look pristine once again.
She had tried many DIY methods she found in magazines, but none of them worked. There were no improvements in the grout lines. Using vinegar, ammonia, and baking soda only yielded negative results. After several unsuccessful attempts, she decided to look for qualified assistance. She went online and searched for the best grout cleaning company in Collegeville, PA. In the top results, she found Sir Grout of Greater Chester County. As she was going through the homepage, the
picture gallery
caught her attention. The pictures showcased the outstanding results we provide our customers. She was relieved to see we had restored many floors with similar issues as hers. After browsing the gallery, she read testimonials and comments from previous satisfied clients. The feedback certified the success of our processes and the quality of our work. The housewife was convinced we could help her. She called us and requested a free in-home consultation.
We arrived a few days later for the evaluation of the floor and to offer an effective solution to solve its problems. The owner greeted us, and after a brief introduction, we proceeded with the inspection of the surface. At first glance, we noticed the missing grout and the accumulation of dirt and grime on the remaining lines. Because of this, the grout had acquired a darkish, unclean look that gave the floor a dirty appearance. This was caused by foot traffic, improper cleaning methods, and harsh products. This daily wear and tear led the grout to slowly peel off in some parts of the floor. Another major flaw we spotted was that it lacked sealant. We explained to the owner that this left the grout exposed to all sorts of damage from external agents. Removing the sullied appearance from the floor couldn't be done with conventional means because the restoration required professional tools, advanced techniques, and special products.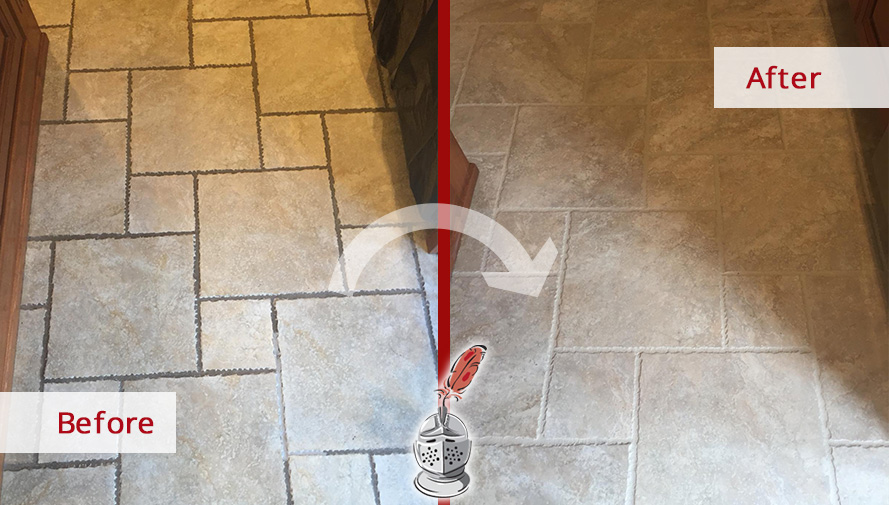 We offered a grout cleaning service to get rid of all the blemishes and give a brand-new appearance to the floor. We would use our award-winning process to revamp the surface. For the best results possible, we use products that are effective and safe for the grout and tiles. We would seal the grout lines using our exclusive ColorSeal. This unique sealant is water-proof and stain-proof, making it ideal for the kitchen's floor. It also gives an appearance boost by tinting the grout lines with a unique color that the owner can choose from a myriad of options. We assured the owner that after our work, the floor would look amazing once again, and all the grout lines would be restored. She was pleased with our assessment and the solution we proposed. The owner accepted our offer and set up a date for the job.
We returned to our client's house on the appointed date to begin the kitchen's floor restoration. Our grout cleaning process consists of several steps and requires our experienced techniques, professional equipment, and high-quality products. We began by cleaning the floor using our special pH-neutral product and a high-speed scrubber. This top of the line cleaner is soap-free and safe for tiles and grout. It won't leave any residue that could be absorbed by the grout lines and won't stain or discolor the tiles. Also, its revamped new formula can help inhibit the growth of bacteria and fungi. The surface can stay clean for an extended period of time after application. Once this was done, the floor was no longer dirty. We were ready for the next step. We cleaned the old, damaged, muddy grout lines and performed all the repairs that were necessary. We thoroughly worked on the entire floor and fixed the missing grout. We made sure everything was fully restored before continuing with the sealing process.
The grout lines were pristine and spotless, ready to be sealed. We applied our state-of-the-art ColorSeal. This exclusive product prevents the absorption of liquids and provides protection against dirt, grime, and all other harmful external agents. Once our sealant is applied, maintaining the great condition of the surface won't be a problem because it will make cleaning routines easier and faster. Spills can be removed with minimal effort, and excessive scrubbing will not be necessary. Furthermore, it comes in a wide range of colors so the owner can match the grout with the tiles, enhancing the appearance of the floor. This top tier product would greatly help ward off damages from daily wear and tear, such as scratches and stains. With the right maintenance, the floor would remain in great condition for a long time.
When we completed all the steps, the floor looked brand-new. All the dirt and blemishes had been removed, giving the surface a clean, refreshed appearance. There were no pieces of missing grout. It had a uniform, vibrant color and it was fully protected thanks to our top tier sealant. The porcelain tiles recovered their beauty completely. This remarkable restoration could have only been achieved with our professional work, skillful techniques, and our top-notch products.
We invited our client to see the outcome of the grout cleaning process. The owner was beyond thrilled with the renewed appearance of her floor. It looked as it did when it was newly installed. She was happy to see that the grout lines no longer had a darkish color and all the missing spots had been restored. She was impressed by the quality of our work and after thanking us, she said we had become her company of choice for hard surface restoration, and from that point on, she would recommend our service to all her friends, family, and neighbors. We provide our clients the best solution for their problems and guarantee long lasting, easy to maintain results.
We also provide advice on how to perform proper maintenance and keep the surface in top condition for years to come. Before leaving, we gave the owner some recommendations and suggestions to make cleaning routines safe, easy, and effective:
Use pH-neutral, soap free cleaners, like our Sir Grout's Natural Hard Surface Cleaner. Our product is safe for the grout and tile because it doesn't leave any sticky residue. Also, it has ingredients that can help provide protection against bacteria and fungi. Soap-based and acidic cleaners, on the other hand, should be avoided. They leave residue that is harmful for the grout lines and can stain or even break them.


Keep the surface dry and free of liquids and splashes. Remove any spill from the floor as soon as it occurs. Don't let water or cleaner residue linger for long periods of time. When drying the surface, use a towel or a terry cloth to prevent scratches and avoid using steel wools or other abrasive tools.


Never use a dirty mop to clean the floor. Don't rinse the mop in the cleaning solution because this only causes grime to build-up. Also, our sealant makes it easier to scrub preventing scratches from excessive scrubbing.
Our superior quality products, tested methods, and these easy to follow steps would help keeping the floor looking spotless and pristine.
Sir Grout of Greater Chester County is the solution for your hard surface restoration problems. It is possible to give the dirty grout lines in your floor a brand-new look with our superior and effective processes. We provide experienced and qualified grout cleaning services that will give back the beauty of any surface. As a leading company in the hard surface restoration industry, we have the most advanced techniques and expertise at your disposal. Don't hesitate to contact us by calling
(215) 609-4868
or by filling out our "Request a Quote" form for a free in-home consultation. We will be glad to attend you. Also, be sure to subscribe to our
newsletter
to receive our latest info and promotions.
If you found this article helpful then let us know in the comments section below. Likewise, feel free to share it using the share options below. Want us to cover another topic of your interest pertaining to Hard Surface Restoration? If so, then like us and follow us on social media, and post to any of our social media profiles the topic you'd like us to discuss:
Facebook Sir Grout of Greater Chester County
,
Instagram @sirgrout
, and
Twitter @SirGrout
.